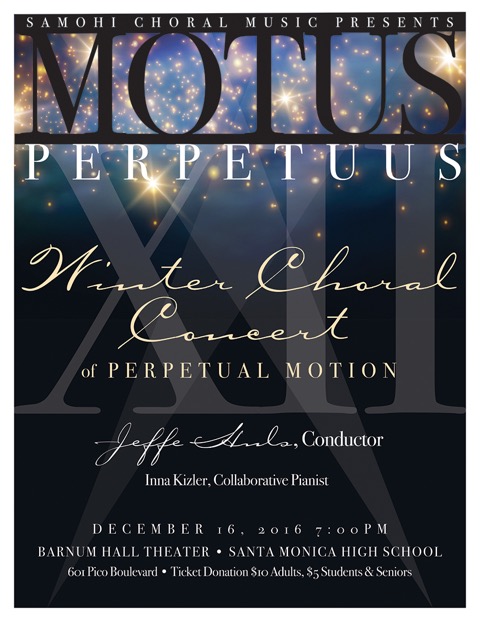 Samohi Choral Music Presents the 11th Annual Motus Perpetuus: Winter Concert of Perpetual Motion on
Friday, December 16th at 7:00pm
in historic Barnum Hall on the Samohi campus. Our annual concert of perpetual motion, Motus Perpetuus features all the choirs Samohi's award winning program. Students perform from around Barnum Hall—the aisles, the balcony, the rear of the theater, and the stage—providing a pseudo-surround sound experience. Choir alums are invited to the stage to sing the Hallelujah Chorus and Samohi Hymn of Praise.
Tickets are available at the door: Adult ticket donation is $10 and Student donation is $5.
Validated parking is available at the Civic lot located on 4th Street; enter through the 4th Street gate and bring your parking ticket for validation.

Our advanced ensembles will (most likely) be travelling internationally this year during Spring Break! Ten days of international travel is typically the area of $3,500+ per person. (Chorale may do a shorter, closer festival tour as well!) Madrigal Ensemble members and Chamber Singers have looked forward to this incredible international tour since they were freshmen!

We remind you of this for two reasons...

First, don't plan on a long family vacation for Spring Break (unless you want to "follow" our tour.) We are committed to having all our advanced ensemble members rehearse, tour and perform together.

Second, please plan ahead financially!
Stay connected to Samohi Choir for important information!
Our mailchimp-generated emails from Samohi Choir (signup to receive those here, and be sure to add

This email address is being protected from spambots. You need JavaScript enabled to view it.

to your address book)